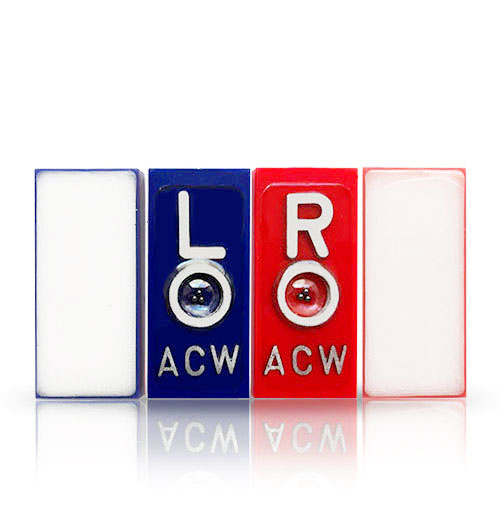 Position Indicator Markers on X-Ray images help Radiologists identify Left and Right side of the body part being examined, as well as the inclination or the angle between patient in erect and supine position. Many Radiology Technologist prefer X-Ray markers with beads because they easily can indicate patient's horizontal or vertical position and the direction of inclination on the images.
Position Indicators are most useful when the X-Ray exam must occur in an erect position. For instance, the abdominal film is routinely obtained with the patient in an erect position to reduce risk for the patients with suspected bowel obstruction, as well as to assess the air-fluid levels in the distended bowel. In these circumstances the only way that a radiologist would be able to tell if the exam was performed upright is by using Position Indicator markers. Due to gravity, in an upright abdomen X-Ray exam the beads will drop to the lower part of the ring, and subsequently casting a shadow of the beads and the ring on the X-Ray film. Based on the shadow and using the ring as a reference point, Radiologists would be able to recognize the exam as an upright abdomen. However, in supine or laying down position exam, the lead balls will sit in the center of the ring.
Traditionally the only way to add a position indicator marker onto X-Ray cassette was taping. Magic X-Ray markers is now for the first time offering Self-Adhesive Position Indicator markers which will never require any kind of adhesives or tape. These Self-Adhesive Position Indicator markers are washable, reusable and in compliance with hospitals infection control and prevention policy. https://www.magicxraymarker.com/SELF-ADHESIVE-X-RAY-MARKERS/self-adhesive-position-indicator-markers.html
Founded in 2009 and based in Lake Elsinore, California, Magic X-Ray Marker started out as the manufacturer of the world's one and only washable and reusable, self-adhesive X-Ray markers. Over the years we have listened to our customers and expanded our product lines to include a large variety of Aluminum, Plastic, Personalized, and Same-Day shipping markers, holders and accessories. We also offer top-quality lead and lead-free characters, as well as molds, glitters, and epoxy so you can create your own X-Ray markers as you please!
Self-Adhesive X-Ray Markers | Plastic X-ray Markers | Elite-Aluminum X-Ray Markers | Lead-Free X-ray Markers | Personalized & Hand-Crafted X-Ray Markers | Lead & Lead-Free Characters | DIY Package for X-Ray Markers |Skin Markers | X-Ray Marker Holders| Expert Support
Contact Info
Phone:   (949) 633-5402 | Weekdays 9AM – 5PM PST
Email:   [email protected]
Website:  www.magicxraymarker.com