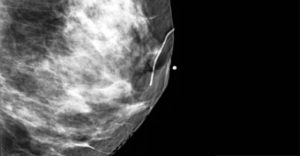 There is a range of markers that can be used to highlight specific areas of skin to facilitate diagnostic imaging. These markers include Mammography Markers, MRI Skin Markers, radiation therapy Markers, Dental Radiopaque Markers, Breast tomosynthesis Markers, CT Imaging Markers, Mole Markers, Nipple Markers, Metal-Free semi-lucent markers, scar tissue wire, bb markers, Cross Reference and lead wire markers.
The different types of skin markers address the needs of technologists and doctors and can be used to help radiologists understand what they are seeing and where they should focus their attention. Skin markers often feature an adhesive that allows them to be placed on the patient's body prior to imaging and they are often disposable which is a sanitary alternative to permanent conventional x-ray Markers and reduce the risk of infection.
Generally, technologists use two kinds of markers for mammography, Standard Mammography x-ray markers and Mammography skin markers.
Types Of Skin Markers:
Magic X-Ray Markers is a Radiology Xray markers suppliers, founded in 2009, based in California offering exclusive collection of X-ray Markers and a vast assortment of top-notch Radiography Markers.
|Skin Markers |